5th ANNUAL GOLF FORE A CURE FORE ALZHEIMER'S JULY 11, 2022
Image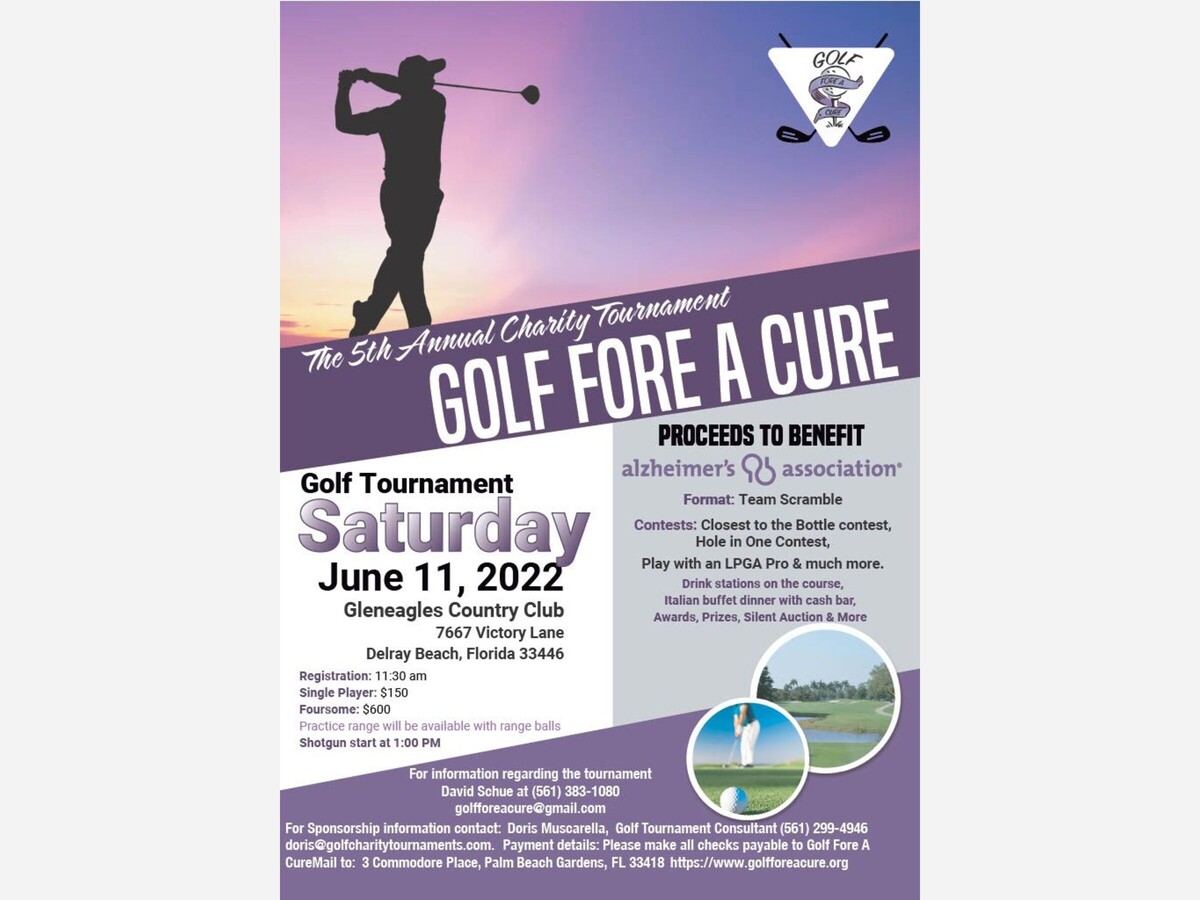 This post expresses the views and opinions of the author(s) and not necessarily that of Boca Radio management or staff.
Join us on Saturday, June 11, 2022, for the 5th
ANNUAL GOLF FOR A CURE FORE ALZHEIMER'S. Enjoy a beautiful day of competitive golf at Gleneagles Country Club in two Champion Golf Courses. Golf Fore A Cure (GFAC) is a nonprofit organization dedicated to raising funds for Alzheimer's Research. We plan golf outings as a context for having fun and to raise money for this worthy cause. The contributions help fund the medical research and treatment for this disease that can happen to anyone. Alzheimer's attacks the brain's neurons, resulting in loss of memory, thinking and language skills, and behavior. It is the common cause of dementia and intellectual dysfunction.
Register today: https://www.golfforeacure.org/golf-tournaments
Single Golfer: $150 and Foursome Fee: $600
Gleneagles Country Club
7667 Victory Lane
Delray Beach, FL 33446
Registration opens at 11:30 a.m.
Complimentary range practice balls
Tournament Shotgun start at 1:00 p.m.
​Format: Team Scramble
Contests: Closest to the Bottle Contest
Hole in One, Hole in 2 Wins a $5,000 Trip of a Lifetime & more
Complimentary drink stations on the course
Italian dinner buffet
Cash bar
Complimentary gift bags for each registered golfer
Awards, Prizes, Silent Auction & More
​
​Sponsorships information contact Doris Muscarella, Golf Tournament Consultant at (561) 299-4946 or email at: doris@golfcharitytournaments.com.
​
Gleneagles Country Club
7667 Victory Lane
Delray Beach, FL 33446
United States